WSP HISTORY: VEHICLES
License Plates
As a result of 1941 legislation the Patrol was known as the "Wisconsin State Traffic Patrol" and the the special license plates used by the patrol reflected this.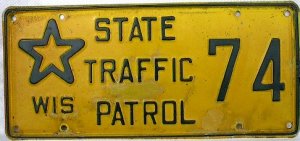 License plate used by WSP
from about 1939 until 1955.
This plate was used by Al Pratt, WSP#50.
With the advent of the 1955 "expansion" legislation, the word traffic was dropped and the Patrol was known as simply the Wisconsin State Patrol. A change was also made to the license plate, mainly to remove the word traffic.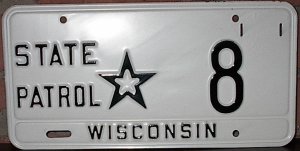 Old black on white plate used from 1955 to 1989.
This plate used by Jim Gruentzel, WSP#67.

Information and photos courtesy of:
A collaboration of the efforts of many and organized by
Terrance W. Stewart, Supervisor (Retired),
Automotive Services Section (1959 - 1965)
Enforcement Division, Wisconsin Motor Vehicle Department